Hieronder vindt u de Beta Motor accessoires, van zowel Beta als ook van andere leveranciers. De originele Beta Motor onderdelen vindt u onder 'Onderdelen' bovenaan deze website.
Het volledige assortiment van originele Beta Motor accessoires vindt u in deze brochure.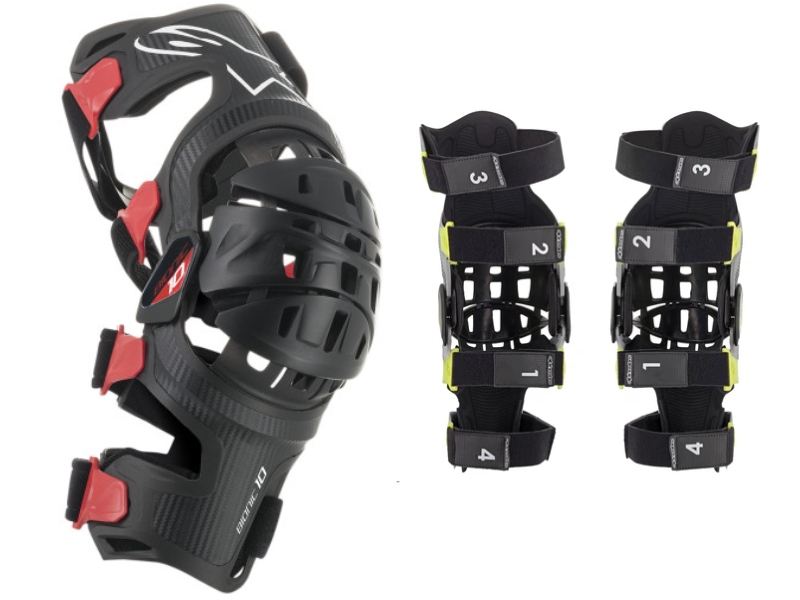 Omschrijving
Bionic-10 Carbon Knee Brace
Features lightweight hybrid frame construction of carbon composite cores over-injected with an advanced fiber reinforced polymer. Innovative design and optimized material utilization of the exoskeleton frame construction make the knee brace even lighter than its predecessor, yet provides high structural strength and support. Performs at temperatures as low as 4°F. Double-pivoting hinge system incorporates tool-free, fast, easily exchangeable extension stops to help prevent hyper-extension injuries. Patented lightweight and highly-ventilated double-wall knee-cup system offers strong impact force dispersion and absorption while ensuring maximum coverage in all riding positions. Ergonomically sculpted knee-cup is constructed from a triple segmented polymer for flexibility and adaptivity that is backed with light padding for comfort. Knee-cup position is secured accurately in place by an innovative integrative mechanical guiding system to allow multi-directional movement. Highly-ventilated channeled padding and mesh zones provide optimized ventilation and airflow. Soft comfortable lateral knee padding avoids pressure points. Additional space padding enables a high-adjustability for a personal fit. Lightweight single straps on upper frames and buckle system promotes secure fitment of brace in all riding positions and effortless mounting. C-Frame strap system holds braces perfectly in place.
Prijs: € 359.00
<< Vorige
|
Terug
|
Volgende >>